The sun is finally shining and summer is almost upon us. As dog lovers, this means playing outdoors with our furry best friends! Besides being the best hobby ever, playing with your dog benefits him or her in many ways.
Play is serious work!
When Snowball tugs on your leg or brings you a ball, she is telling you that she needs to play. This may seem unimportant to you, but to a dog, it's everything. Doggie depression and anxiety can set in when she's not getting her fill of play time. She might even start exhibiting behavioral issues like aggression or whining and ignoring commands.
Play time affects the health of your dog in several ways. Here are some of them:
Play Keeps Your Friend Slim & Trim
Obviously, play greatly impacts physical fitness. Playing fetch or tug of war works muscles and burns calories, which is important considering that 53% of dogs in the US are obese. What's wrong with that, you ask. Isn't there just more to love? Of course, but keeping your dog at a healthy weight can add 15% to his life span. What dog owner isn't into that!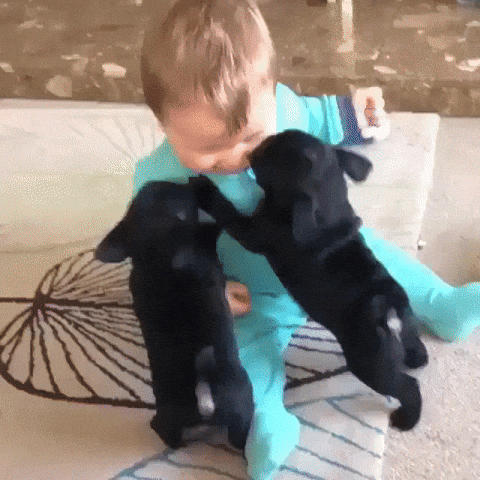 Play Helps to Develops Social & Motor Skills
Dogs develop motor skills during playtime. Chasing, play fighting, manipulating objects with paws or mouth and tugging all work different parts of the brain and engage essential motor skills.
On the flip side, dogs also learn what not to do during playtime. Rough or aggressive play will be met with yelps or growls, sending the message: Hey-Don't Do That! Play helps dogs to learn how to behave as a valuable member of the pack.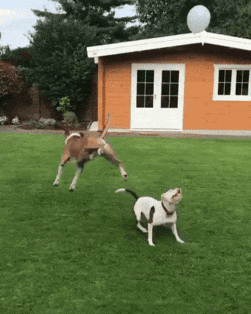 Play Teaches Dogs how to Communicate
During play, dogs learn crucial communication skills by both audible and physical cues. Running around with a partner, they begin to understand communication signals. This communication helps bond the dogs to each other and to their pack as a whole. Dogs, like humans, continue a to have a high need for community and group recreation, even into their adult years.
So, now that we know the importance of playtime, let's get to the good stuff. Here are 6 new toys we found that will make play time seem like a party!
1. Fetch for Pets Star Wars Chewbacca Plush Dog Toy
George Lucas was inspired to create Chewbacca, a "gentle, hairy, non-English-speaking co-pilot" by seeing his own dog sitting up on the passenger seat of his car. Awww! Fetch for Pets offers this polyester, squeaking Wookie companion and several others from the Star Wars collection.
Chewbacca's creation as a "gentle,
hairy
, non-English-speaking co-pilot"
was inspired by

George Lucas

seeing his own dog sitting up on the passenger seat of his car
2. Wingpet Interactive Dog Chew
This dumbbell shaped toy features a ball at each end to keep your dogs entertained. One end contains a treat dispenser, encouraging focus and mental sharpness. The opposite end squeaks to keep your dog interested in play.
3. IFELISS IQ Treat Dispenser
Puppies or dogs with sensitive gums will enjoy chomping on this treat dispenser. It is made of soft material and has no plastic or sharp edges.
4. Zippy Paws Food Buddies Burrow Bucket of Popcorn
Can your dog find a way to get the popcorn kernels into the bucket? He'll have hours of fun trying! Each kernel squeaks for an interactive, fun time.
5. Speppav Heartbeat Plush Toy
Puppies and dogs with high anxiety will love this soft doggy companion with a mother-like "heartbeat" to calm or reduce stress. Aww.
6.

Trio Gato Outdoor Dog Water Fountain Toy
Newly upgraded for 2019, this interactive toy provides serious relief on a hot summer day. When your pet taps on the paw image, a refreshing stream of water squirts up.

Play benefits your dog in many ways. So grab one of these toys and your best friend. Go outside, let loose and have fun!