Dear old Dad - he's your fix-it guy, your hero, your shelter from life's harshest storms. This Father's Day, after you celebrate your special guy by giving him cards, making him gifts and stuffing him with bbq'd ribs and steak, kick back and watch a movie with him. Here are our recommendations, organized by dad type.
7 Dad Types & Movies to Match his Personality
Adventure Dad
If your dad refers to paper maps as the only reliable navigation system, loves spy stuff, hates Nazis and lugs a metal detector to the beach in pursuit of buried treasure (quarters) he may enjoy these movies: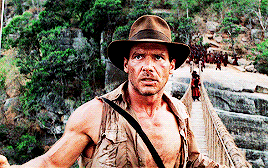 "Nazis-I hate those guys." - Indiana Jones
Indian Jones & The Last Crusade rated PG-13 - What could be better than rescuing your father, who happens to be searching for the holy grail? Nothing! Nazi hating Indiana Jones stops at nothing to save both his father and the holy grail from greedy, unholy hands.

Mission Impossible rated PG-13 - Spy Ethan Hunt is framed for murder and selling government secrets. He must identify the real killer/counter spy to clear his name.

Star Wars Episode V: The Empire Strikes Back rated PG - When Luke Skywalker, Han Solo, Princess Leia and Chewbacca are attacked by the Imperial Forces, Han and Leia escape in the Millennial Falcon and Luke goes in search of a great Jedi master. All of this action plus the real identity of Luke's father? Sweet Father's Day dreams were made of this!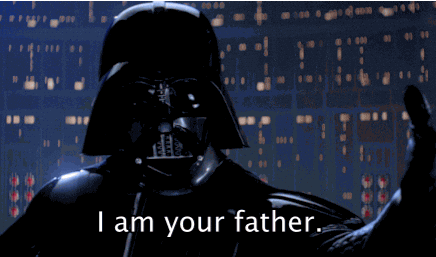 Action Dad
If your dad refers to steak knives as machetes, slams cabinets with an unnecesary roundhouse kick, and calls his flabby dad muscles The Gun Show, he may like these movies:
Jaws rated PG - Police Chief Martin Brody must restore order when his quiet beachside community is attacked by a killer shark. He solicits help from a marine biologist and an old salty sea dog to catch the killer and stop the violent attacks.
"Boys, oh boys! I think he's come back for his noon feeding."

Taken rated PG-13 - Hopefully your dad won't ever need to rescue anyone from international kidnappers, but he could watch Taken to get a few tips just in case. Liam Neeson kicks butt in this action movie as a retired government operative who uses his unique set of skills to search for his daughter.
Baseball Dad - If your dad calls you little slugger, and refers to life's challenges as curve balls, he may like these movies.
The Natural rated PG - Dad will cheer as baseball phenom Roy Hobbs finally gets his chance to play in the big game - 16 years after being attacked and injured.
Field of Dreams rated PG - An Iowa farmer, taking the sage advice of the voice in his head (If you build it, he will come) builds a baseball diamond in his backyard and is rewarded with special visitors. Further proof that with a little help from your friends and a shoeless ghost anything can happen!

The Sentimental Dad
If your dad cries at Hallmark or AT&T commercials, has a tattoo of you as a baby over his heart
Father of the Bride rated PG -

Steve Martin stars as George Banks, Father of the bride and dad-on-the-edge in this 1991 movie. However, your sentimental dad may best identify with the father of the groom, hilariously played by Peter Michael Goetz, who cannot make it through a sentence about his son without crying tears of joy.
To Kill a Mockingbird (not rated) - D

ads everywhere will appreciate the plight of widowed single father Atticus, a lawyer who must battle racism and inequality while teaching his daughter Scout that fighting does not solve everything.
Guess Who's Coming to Dinner - Spencer Tracy stars as a Matt Drayton, a loving father and liberal community leader whose own beliefs are put to the test when his white daughter announces her intentions to marry a black doctor. It's hard to believe, but at the time this film was made, interracial marriage was still illegal in 17 states. This was Spencer Tracy's last film role; he passed away 17 days after the film wrapped.
Animation Dad
If your dad prefers How to Train your Dragon's Night Fury to Game of Thrones's Drogon, constantly hums "Everything is Awesome" and reminds you that he loves you "to infinity and beyond", watch one of these movies with him: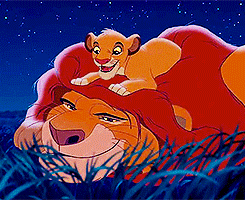 The Lion King rated G - This is the story of King Mufasa, ruler of The Pridelands and loving father to cub Simba, who will one day rule the kingdom himself. Mufasa's efforts to prepare Simba to be the new king are interrupted by Mufasa's brother Scar, who tries to overthrow the kingdom and become king himself.

Finding Nemo rated G

If your dad is more of a marine mammal, watch Nemo's dad Marlin, who will stop at nothing to find and reconnect with his missing son.
Serious Dad
If your dad is frequently spotted in black dress socks and tennis shoes, asks you to call him "Sir", says things like "It's my way or the highway", he might enjoy one of these:
"It's my way or the Long Island Express Way"
Meet the Parents rated PG-13 - Lovestruck male nurse Greg (Ben Stiller) gets more than he bargained for when he takes a trip to meet his girlfriend's parents, and hopefully propose. Robert Di Niro plays the protective, ex CIA father who thinks his daughter is too good for Greg, who he's convinced is a lying con man.
The Godfather rated R - Fathers love mob movies, but the rest of us can't disagree with this one.

Marlon Brando plays

Patriarch Don Vito Corleone, leader of one of New York's 5 mob families. Al Pacino stars as Corleone's son, who must reluctantly join the family business when his father is ambushed by opposing factions.
The Almost Cool Dad
If your dad attempts feats far beyond his skill level in the name of being cool and repeats trendy phrases but uses them in the wrong way, he may enjoy these:
Daddy's Home rated PG-13 - Will Ferrel plays

Brad Whitaker, a kind-hearted stepdad trying his best to be as cool as his stepkid's motorcycle riding, bad-boy biological dad Dusty. Despite his best efforts, Brad cannot compete with Dusty's coolness, but he can teach Dusty a few things about being a better father.

Parenthood rated PG-13 - Steve Martin plays Gil Buckman, a slightly neurotic father desperately trying to be the dad his father never was. Despite his best efforts, Gil's children experience hardships, and Gil blames all of their troubles on himself. When Gil's wife makes an announces she is pregnant again, it is almost more than Gil can take, but decides the love for his kids will see him through.