When Paris Hilton decided her dogs needed their own place to chill out, she installed a doggie mansion in her backyard, featuring a balcony, chandelier and air conditioning. This week, in honor of National Dog Day and all things canine, here are some tips on spoiling your dog without depleting your bank account.
Paris Hilton's doggie mansion
Start with Adoption
According to the ASPCA, 3.3 million dogs enter shelters or rescues in the US every year. Breeds of every kind, from the teeniest Chihuahua to enormous Great Danes are available and ready to love you.
Save money right from the start by looking into adoption.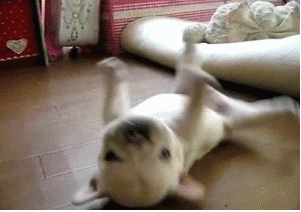 Adopt me!
Dog Food
Saving money on dog food takes a little research. Feeding your pet cheap but low quality junk can lead to health problems down the road. Be smart about labels. Don't get sucked into paying more for food because it is "all natural" or "premium". These words sound good but have no meaningful standards attached to them, making any brand able to claim them. Check labels for real foods like meat, vegetables and fruit. Avoid fillers that satisfy the tummy but miss the mark on nutrition.
Make your own gourmet dog food
This not only saves money, it ensures your dog is eating fresh, healthy food. DIY dog food recipes abound online. Find a good recipe, get the ingredients and set the table.
Supplement
The right nutrition makes us feel incredible. It's the same with our furry friends. Offer them fresh fruits and veggies to make sure their diet is complete. Try carrots, strawberries, green beans, blueberries, watermelon, even cooked pumpkin!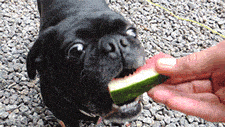 Supplement your dog's healthy diet with fruits and veggies
Buy in Bulk
if you have good storage, look for deals if you buy in larger amounts.
I

ncentive plan
Some brands or stores offer a free bag or discount to frequent buyers. Ask your local pet food store if they have an incentive program.
Look for coupons
Even saving a small amount like $1 or $2 adds up over time. Look around for deals and discounts.
Dog house and bed
OK, it won't rival the one at Paris Hilton's house, but you can save money by making a dog house or even a dog bed and personalizing it just for your dog.
How to make a dog house. How to make a dog bed
Dogs and babies have this in common - they dont care how much a toy costs. Your dog has no clue if you splurged on a toy; she just wants to have fun. Here are a couple of ideas that cost little but offer big fun:
DIY
Make a dog tug-of-war toy by taking an old shirt and tying a knot in the middle. Or, make a noisy toy with
an old sock and placing a semi-smooshed water bottle in it. Tie it shut, and the noisy fun begins.
D

ollar store or
2nd hand stores and yard sales
Great canine treasures can be found at places like the Dollar Store or even garage sales. Just make sure to

wash anything you buy second hand with and check for loose parts, holes, chipping paint, etc.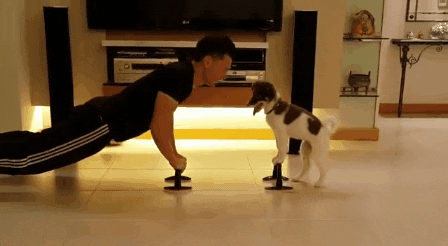 Dog in training
Dog Training
Learn about training methods
Save money by training your dog at home. Search the internet for "how to" training tools and read up on training methods. If you must hire someone to help train your dog, look for a group training, which usually offer lower fees.

Avoid spending a lot
on training, if you are not willing to follow the program at home. Bad habits return quickly without consistent discipline.
Look for coupons
Look for deals and discounts for dog training, and tell your friends to share any good deals with you.
Dog Grooming
Paris Hilton taught us that a tiny dog mak
es the perfect accessory to a designer outfit; but grooming is about more than vanity.
Regular grooming contributes to your dog's overall health.
Brush fur
No need to pay for grooming that you can do at home. A good pet grooming brush will get rid of loose hair, leaves, weeds, dirt, and occasionally gum (don't ask). It also redistributes the natural oils from the scalp to the fur.
Brush teeth
Your dog's teeth and gums are susceptible to disease just like yours, and doggie dental bills are expensive. Avoid big dental bills by regularly brushing your dog's teeth and stimulating the gums. Poor dental habits can affect the entire body and may lead to diseases of the heart or liver.
Trim nails
Start at a young age so that your dog isn't fearful when you come at him with the clippers. If you can do this at home, it's quite a savings.
Give your dog a soothing bath at home
Bathing
If you have a tub or even a kiddie pool in the backyard, you can save a lot of money doing this yourself. A doggie spa day with some great smelling products will make your shelter dog look like a star.
Veterinary Costs
Stay Healthy
Save money on vet bills with frequent

exercise and good food.
Shots
Don't skip shots because they are expensive. It costs more money in the long run, and could seriously hurt your dog or make him sick.
Use Household Medications
Ask your vet about which over the counter medications are ok to give your dog. Here are some ideas:
Dramamine
Zantac
Gas-X
Pepto-Bismol
Aspirin (sparingly)
Hydrocortisone
Saline nasal spray
So, use these tips to pamper your trusty sidekick, and give your dog some extra love today. That's the best gift of all, and it doesn't cost a thing!