Thanksgiving is one day away, and, if you're anything like us -- you're already planning how you're going to spend your day -- whether that's gobbling down a load of turkey, flopping awkwardly onto the couch with a massive food coma, or avoiding uncomfortable interactions with your great-aunt Alva about why you showed up alone (again). Whatever you're doing, we all know this auspicious day of the year can be both incredibly special ... and incredibly awkward.
For some of you, this may be a day you look forward to all year -- for others it's the obligatory get-together that welcomes in the holiday season along with a side helping of holiday draaaama. While Thanksgiving is meant to be a reflective day spent reminiscing with family and bonding over a freshly baked pie, it can get a little hectic. We get that.
Because of this, we've asked some of our colleagues at the SurveyMe office for their top tips to surviving Thanksgiving. We can't say they're all super helpful, but they're definitely heartfelt... and that counts... for something.
Here are their thoughts...
"Eat. All. Day. None of this starve yourself for a big dinner crap. Eating very small amounts of food from breakfast to dinner will definitely allow for you to try almost everything at Thanksgiving and maybe even go for seconds."
-- Andrea, Market Research & Client Experience Expert
Words of wisdom! Afterall, this day is all about the food -- so why waste a moment? Show you appreciate the food. Stuff your face.
"In addition to eating all day, I think you should watch ALL of the Thanksgiving episodes of Friends. It will help you get into the holiday spirit. Oh! Also -- I may have a list of these episode available for you: Season 1 Episode 2, Season 2 Episode 9, Season 3 Episode 10, Season 4 Episode 7, Season 5 Episode 1, Season 6 'The one where Ross got high', Season 7 'The One where Chandler doesn't like dogs', Season 8 'The One with the Rumor', Season 9 'The one with Rachel's Other Sister', Season 10 'The one with the late Thanksgiving'. You're welcome."
-- Jen, Client Experience Manager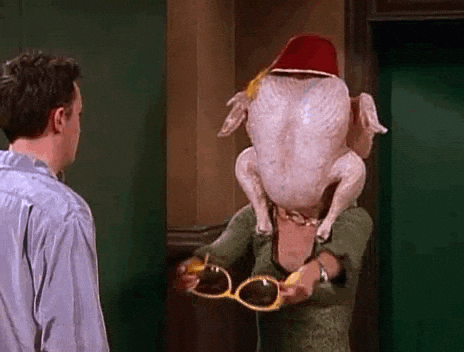 Friends hasn't steered us wrong on Thanksgiving yet. Solid suggestion, Jen.
"Wear stretchy clothes, get a little of everything on your plate, don't talk about world events at the dinner table, and most importantly save room for pie. Also, try and sit with the kids... they're more fun to talk to."
-- Alex, Graphic Designer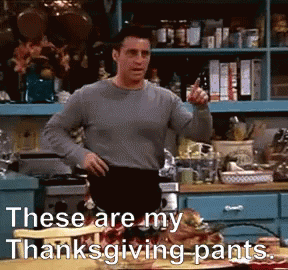 Stretchy clothes are always a good idea. And that tip about sitting with kids -- excellent.
"For Thanksgiving, I like to play board games. Trivial Pursuit, Scrabble, Yahtzee, Monopoly. THE BEST! Just don't ask me to draw anything."
-- Michelle, Blog Writer & Client Experience Expert
So basically, if you want to win at games, ask Michelle to play Pictionary with you. Got it.
"My Thanksgiving survival tip is to avoid being near the kitchen until they say 'dinner is ready!' Your best bet is to announce you need to take a pre-Thanksgiving 'calorie burner' walk and then 'accidentally' get lost until about 5 minutes before the turkey's ready. I'm kidding! Seriously -- I promise I'm kidding."
-- Renee, Marketing Associate
In all seriousness, the best advice any of us can give is to choose to be present -- show up, lay aside your differences, and smile a lot. Family time is precious, so make the most of it! We're firm believers here at SurveyMe that no matter what, there's always something to be thankful for. Whatever memories and feelings the holiday season brings up for you, we hope that this year is one where you feel richly loved and thankful.
So, we want to know: what are your favorite Thanksgiving survival tips and what is one thing you're thankful for? Comment below!
From our staff to you and your family, Happy Thanksgiving!